Hon. Richard P. Goldenhersh
USA&M Advanced Mediator Training
Illinois State Bar Association Mediation Course 2018
University of Virginia, LLM 2001
Washington University in St. Louis School of Law, JD 1969
Washington University in St. Louis, BA 1966
*See online calendar below*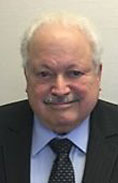 Judge Goldenhersh has more than four decades of trial and appellate judicial experience. After earning his law degree in 1969, he entered private practice where he served plaintiffs and defendants on a range of legal issues. In 1975 he was appointed Associate Circuit Judge in Illinois. He remained in this role until 1982 when he became a Circuit Judge. In 1988 he was elected to the Illinois Appellate Court, 5th district and held this position until he retired in 2018. Judge Goldenhersh has been recognized with a Lifetime Achievement Award from the Illinois Judges Association and the Richard J. Elrod Award from the Jewish Judges Association.
Past Chair and current member, Illinois State Bar Association Civil Practice and Procedure Section Council
Past President, Illinois Judges Association
Co-editor and contributor, Illinois Causes of Action
Author: Summaries of Illinois law, Southern Illinois University Law Review
Complex Civil and Criminal Litigation Committee, Administrative Office of the Illinois Courts
Prepared handbooks for trial judges in complex civil litigation and complex criminal trials
Presiding Justice, Appellate Court, Fifth District
Illinois State Bar Association
St. Clair County Bar Association
Missouri Bar
To reserve an appointment online, please click your preferred available date.